Area in Need Missionary House Inc.
Area in Need Missionary House, Incorporated (AINMH) is a 501©3 organization based out of Stockbridge, GA. Founded in 2015, the mission of AINMH is to feed the homeless and clothe the needy. We are dedicated to addressing the needs of individuals, families and children experiencing homelessness in the Metropolitan Atlanta Area. 
The inspiration for the agency came from reports from local schools that there were more than 1,900 homeless children in the Metro-Atlanta area school districts alone in 2015. We serve individuals and families living in poverty and homelessness by providing assistance with access to food, clothing and referrals to other local organizations. As of Spring 2017, we have served more than 2,500 men, woman and children through our signature "Because We Care" events.
Area in Need Missionary House is dedicated to serving the communities in the Metro-Atlanta area. Recognizing that various factors can lead to homelessness, such as job loss, eviction, family tragedy, etc., AINHM began to help bridge the gap in 2016 with our "Because We Care" events. AINMH goes out to three Metro-Atlanta hotels three times a month to serve the men, woman and children on the street and living in the Hotels and "extended stay" style hotels where they call home. There are over 1,900 homeless children in the metro Atlanta area alone. Where there are children there is a need for our program. 
We bring life essentials to these events which include Case management, 2nd chance housing program, food, clothes, shoes, and toiletries, grooming items, Diabetes screening, Blood Pressure screening and our kids' corner. The agency has also partnered with several other social service organizations that address the mental health needs of the people that we serve. AINMH has developed a lifesaving relationship with these men, woman and children; however, we need help in order to continue our work and to eventually obtain a facility that would enable us to offer more assistance and a place of refuge. Our ultimate goal is to provide a hand up… not a hand out.
Ms. Stephanie Ford is the president and CEO of AINMH. Stephanie manages the overall agency direction, and all external relationships and collaborations. She provides assistance in a humanitarian organization that fights poverty.  AINMH places a strong focus on the veterans, men, women and children living in the hotels and extended stays, together we have the power to lift whole families and entire communities out of poverty.
In her first year at the helm of AINMH, Stephanie deployed bold and strategic framework to guide and grow this grass root organization that has impacted over 6,000 lives over the last three years.
AINMH has received several community service awards, 2016 Proclamation from The City of Riverdale, Georgia, 2017 Georgia Air Guard Community Service award and 2018 Right Hand foundation Outstanding community service award.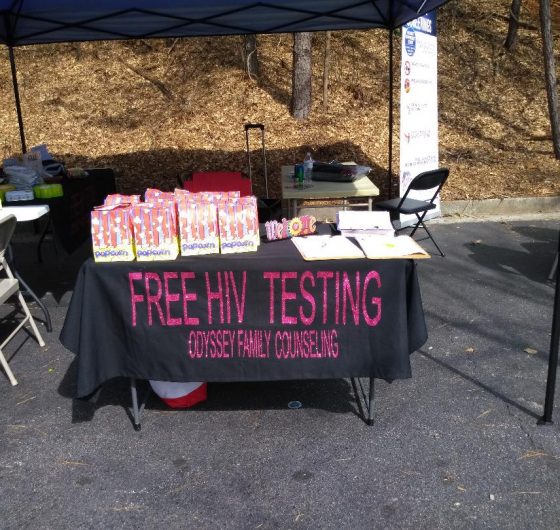 The Atlanta Diabetes Association – Has joined our team they will provide diabetes screenings for the men and women that live in the hotel and extended stays on a monthly basis.
Johnett Thompson-Nurse Practitioner – Will be administering Blood pressure screening for our locations
Odyssey Family Counseling – Has joined our team the will be providing Free HIV testing for 3 of our hotel and extended stays locations on a monthly basis.
The Because we Care kids corner – This program is geared toward bringing out the creativity in each child we encounter and helping to build social skills.  Area in need Missionary House has an age appropriate student and parent to run the kid's corner providing guidance for each child. Our goal is to motivate, encourage and bring a smile to every child we encounter. Each child will be given a chance to draw, color, paint and just have fun.
Healing Community Center – Has partnered with Area in need Missionary House Inc. to provide Blood pressure screenings for our clients at all three of our locations. They will provide important blood pressure information to everyone with concerns and abnormal screenings. The healing Community Center  will provide pamplets and healthcare information to help assist with there needs.
Our second chance program is a one-year program to aid and assist our clients in obtaining and maintaining permanent housing.  AINMH will provide a Mortgage Lender and Licensed realtor onsite to assist our clients on a monthly basis. Our goal is to give every family a second chance at renting or owning their own home.
Area in Need Missionary House will have a down payment assistance program and a Case manager for our potential homeowners and renters to assist with their financial needs.  Our donors and supporters will be asked to assist us with providing funds to assist our clients with their housing needs. Bringing hope back to the communities one area at a time.
Stephanie Ford is the President and CEO of Area in Need Missionary House, Inc.
Ms.Ford has received several community recognition awards, including a proclamation from the City of Riverdale, Georgia in  2016, and the Georgia Air Guard community service award in 2017. She also serves on the Georgia Army National Guard Family readiness program,an organization that supports and cares for our troops,  as the Co-Chair in 2015.2018 Area in Need Missionary House Inc received a community service award from The Right Hand Foundation.
Area in Need Missionary, Inc. (AINMH) purpose and mission is to feed the homeless and serve the needy in order to bring love and hope back to the communities, one area at a time.
During her three years with AINMH Stephanie have started several programs within the organization which are in place to help end homeliness. She is currently responsible for the overall agency direction, fundraising, advocacy and managing external relationships and collaborations.
Stephanie believes in providing love and care to each person she encounters, and have had the opportunity to work for several companies throughout her career where she have provided excellent customer service and management skills. As an entrepreneur for over 10 years, Stephanie has built great relationships within the community, and among business leaders.  She has worked in the medical field for over 24 years and as an entrepreneur for over 10 years.
Her passion is helping others as it brings great joy to her heart… Stephanie lives by the motto that "Service is not a job, it's my purpose and passion".
Stephanie is a single parent with 2 children, Cordarius and Kerri Ford. Her life is guided by her love for Christ; this is what keeps her humble and proud to serve her brothers and sisters in the community.
I was born in Can Tho, South Viet Nam on June 2nd. I have 1 sister, 3 brothers. I am the middle of 5 children. My family was sponsored by the Fort Jefferson United Methodist Church in Darke County Ohio, April 18, 1980. We lived in Greenville, Ohio for about 5 years. Our family moved to Los Angeles in 1985.
I'm a Project Analyst for software company located in San Diego California. I have been with the company over 14 years. My role contributes to the software development process by ensuring complete and accurate documentation of system requirements. Creating, managing, determines, defines, and documents/maps system specifications as well as process improvements that may include User Stories, Use Cases, Logical Models, Activity, Sequence, State Transition & Process Flow Diagrams, Report Specifications and Data Mapping & Flow Diagrams.
My educational background includes a MA in Makeup Artistry from Studio Seven University in Los Angeles, California. I have a B.A in Business Administrations from Azusa Pacific University in Los Angeles, California.
I am married to Adalberto Mendez and we have 1 son, 2 dogs and 1 cat. I love all types of animals but dogs and cats captured my heart.
I'm all about helping animals and those who aren't so fortunate. My passions are helping animals, the homeless and children. As a business man once said, "Homelessness is like a cancer and we don't have a cure". There are so many disadvantaged people, hungry people and homeless people. We need to help them.
Lending a helping hand is one of the easiest things you can do to make a difference in this world. You can improve the world, one day, one person and one act of kindness at a time.
Tara Neal was born and raised in Trenton, New Jersey, she moved to Georgia 7 years ago when her company relocated their main office to Atlanta. She was reared in her local church from an adolescent and has served as Youth Choir advisor, VBS teacher, Outreach Youth Program Coordinator and in 2008 she became a Licensed Minister where she became the Youth Ministry Leader.
She attended Mercer County Community College and received an associate degree in Office Automation and Koinonia School of Ministry and she holds several certificates in Counseling, Youth ministry and Leadership. 
Upon relocating to Georgia she was trying to figure out where she could pick up her calling in such a big state. She visited and join Elizabeth Baptist Church in 2016.  She was called to work the youth because she has a heart and soul for children, always ready to lend a helping hand and encourage those in need.
Throughout her life she has mentored/counseled many for men, women, and children of all ages which has given her the nickname "SUNSHINE" because her smile can make anyone feel better.
Tara's passion for others in need has not stopped since moving to Georgia, in 2016 she accepted to be on the Board of Area in Need Missionary House Inc. under the Leadership of CEO Stephanie Ford. Tara enjoys her days helping others, spending time with her family, worshipping God and living life to its fullest. Favorite Scripture Roman 8:28 –  And we know that all things work together for good to them that love God, to them who are the called according to his purpose.
Nadia is a native of Kingston, Jamaica. Upon graduating from Leon's School of Beauty Culture, traveling and living many places abroad, she moved to the United States over thirty years ago. She settled in Connecticut where she provided cosmetology services to a hand full of celebrities and customers who became lifelong friends. 
Years later, she gave birth to her first child and only daughter, Jasmine (24). Shortly after Jasmine's arrival, her family kept a south-moving trail living in Queens, NY, Orlando, FL and finally now in Jonesboro, GA. Along those moves she welcomed in her two sons Anthony (22) and Samuel (19). 
Being a nomad over the years has allowed Nadia to develop strong and meaningful relationships with neighbors. It only took one volunteering event and an introducing to the team, with Sandy Huyhn-Mendez (also a neighbor)— for Nadia to know she would be more than happy to be on board to serve her local community in any way possible. 
Currently, she is the Intimates and Accessories Supervisor at Kohl's in Stockbridge- which she has been employed with for thirteen years. Outside of work, Nadia devotes all of her spare time to her three children, grand-dog and to the preparation of the various community events of Area in Need Missionary House.